10 ways to improve your Youth Social Impact
Posted on the 24/01/2022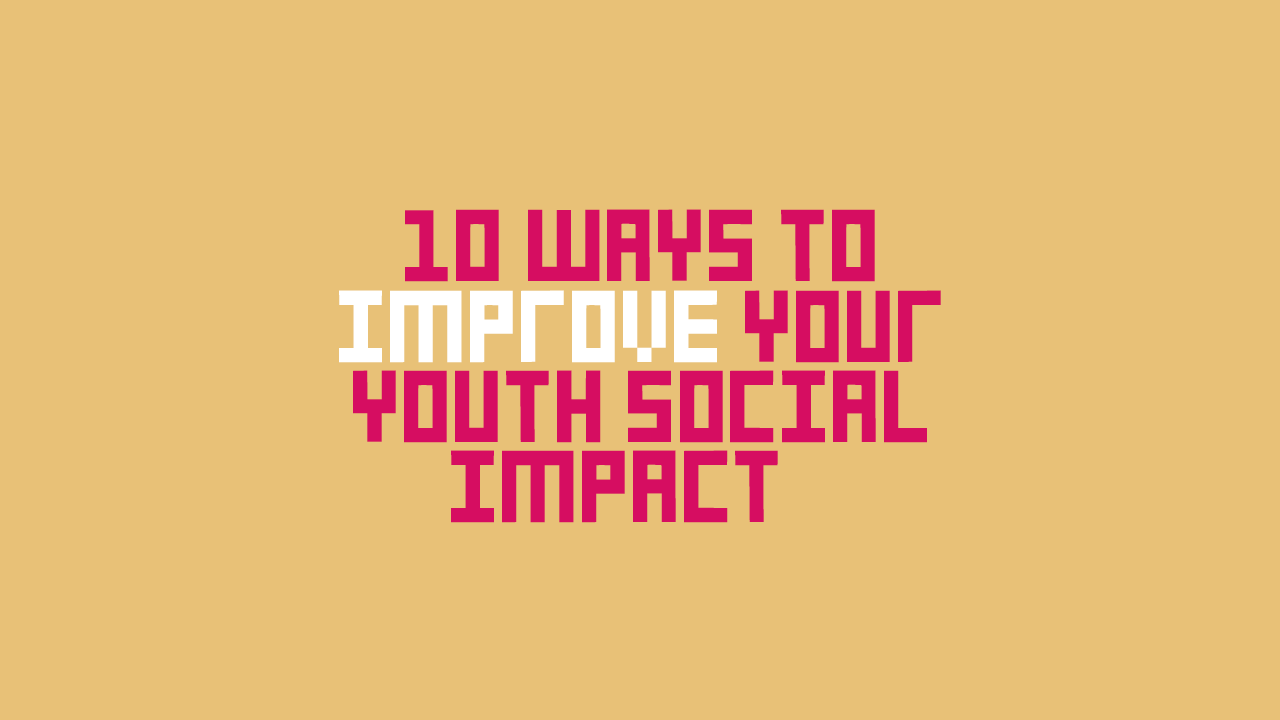 1. Put young people at the heart of your decision making
It's amazing how many organisations tell me exactly what young people want from their product or services - despite never having had a conversation with them!
If you want to maximise your youth social impact you need to involve young people in the decision making process. This can either be in shaping the product that you want them to engage with or contributing to the conversation on how best to engage them. Or preferably both!

2. Focus on the product not the funding
Successful funding applications bring much needed revenue into an organisation, but occasionally bids are written with no consideration to either engaging young people or achieving outputs that will improve young lives.
Develop a robust product that will add benefit to young lives and then seek funding, rather than retrofitting an untested idea to a potential funding source.
3. Innovate and constantly evolve
If you are still using the same template for activity that you used five years ago then you are severely restricting success. Five years ago, it was all Facebook ads and Snapchat geofilters, but the world changes and so do the ways of engaging young people.
Young people have evolved to block out advertising messages, and have created personalised 'wall-gardened' spaces to communicate with each other. To engage in 2022, that 2017 plan just isn't going to cut it anymore. How can you be part of a conversation if you don't know what the conversation is?
4. They are not "all on social media"
You can't just write a social media post will tell young people about your product or activity. They might be 'on' social media' but they are not necessarily on 'your' social media channels. To see your post, they need to be interested enough to follow you, and the process to get them to do this starts a long time before we tell them about an activity.
5. Young people aren't a homogenous group
There isn't one defining quality that all teens and young adults share.
Each young person is comprised of a unique set of characteristics (their social DNA) - age, gender, ethnicity, sexuality, home-lives, family units, health pressures, qualifications, aspirations etc - and these are all going to significantly affect the process of engaging them.
To effectively engage you need to understand the characteristics of 'your' target audience and ensure that messages are relevant to your specific group.
6. Get a strategy and stick to it
It goes without saying that you need a youth strategy, and preferably this needs to be embedded at a senior management level.
However, just because a young person doesn't engage immediately, it doesn't mean that they haven't 'processed' the information to use at a later date. Therefore, it is important to keep engagement activity regular and consistent.
It is said that we all need to see a message seven times before we respond to it – if you keep 'flip-flopping' and changing the strategy or the message you will confuse the audience and alienate them.
7. Surround yourself with good people
Successful youth engagement is not easy, and activity will only be as good as your weakest link. Ensure that you surround yourself with a good team and try to minimise the number of non-youth engagement specialists involved in critical positions.
8. Build and work in partnerships
Recent trends in health social prescribing are moving towards a model where partners celebrate collective success rather than individual wins. Often, successful youth engagement involves a partnership approach both in terms of engaging audiences and an overlap of service delivery. This is often difficult with output-led activity, but when the focus is on 'impact', a multi-agency approach can be more justified.
9. Build employee advocacy
Often an organisation's workforce is its number one engagement tool. Each staff member has their own network, contacts and friendship group and this can be a powerful channel if harnessed correctly. Many employees prefer to create a distinction between work and personal life, but if they can be involved in the advocacy process and feel part of its success, it can create a pride and a connection that they will want to share with others.
10. Celebrate success
It's amazing how often we forget to shout about our successes. We focus so much on the day-job that we forget to take a step back and use it as an opportunity to celebrate our achievements. There are lots of reasons to do this – other young people might see it and engage, funders and partners might approach us with additional projects, and staff and stakeholders will feel pride in the difference their organisation is making to young people.
If you would like to improve your Youth Social Impact please get in touch and we can have an informal chat about the areas you might need support with.
If you are unsure where to start, why not consider my specially created Youth Social Impact Audit? It's a fantastic low-cost way to quickly evaluate the areas that might need addressing – and the cost will be refunded if you subsequently commission further work.
For more information please visit www.fourteen19.co.uk/impactaudit