Catherine takes centre stage with Centrepoint
Posted on the 08/11/2017
Today we got started with an exciting project with Centrepoint and Health Education England to help them create a digital resource that would support their Mental Health Toolkit and enable frontline staff to offer the right support to their young service users.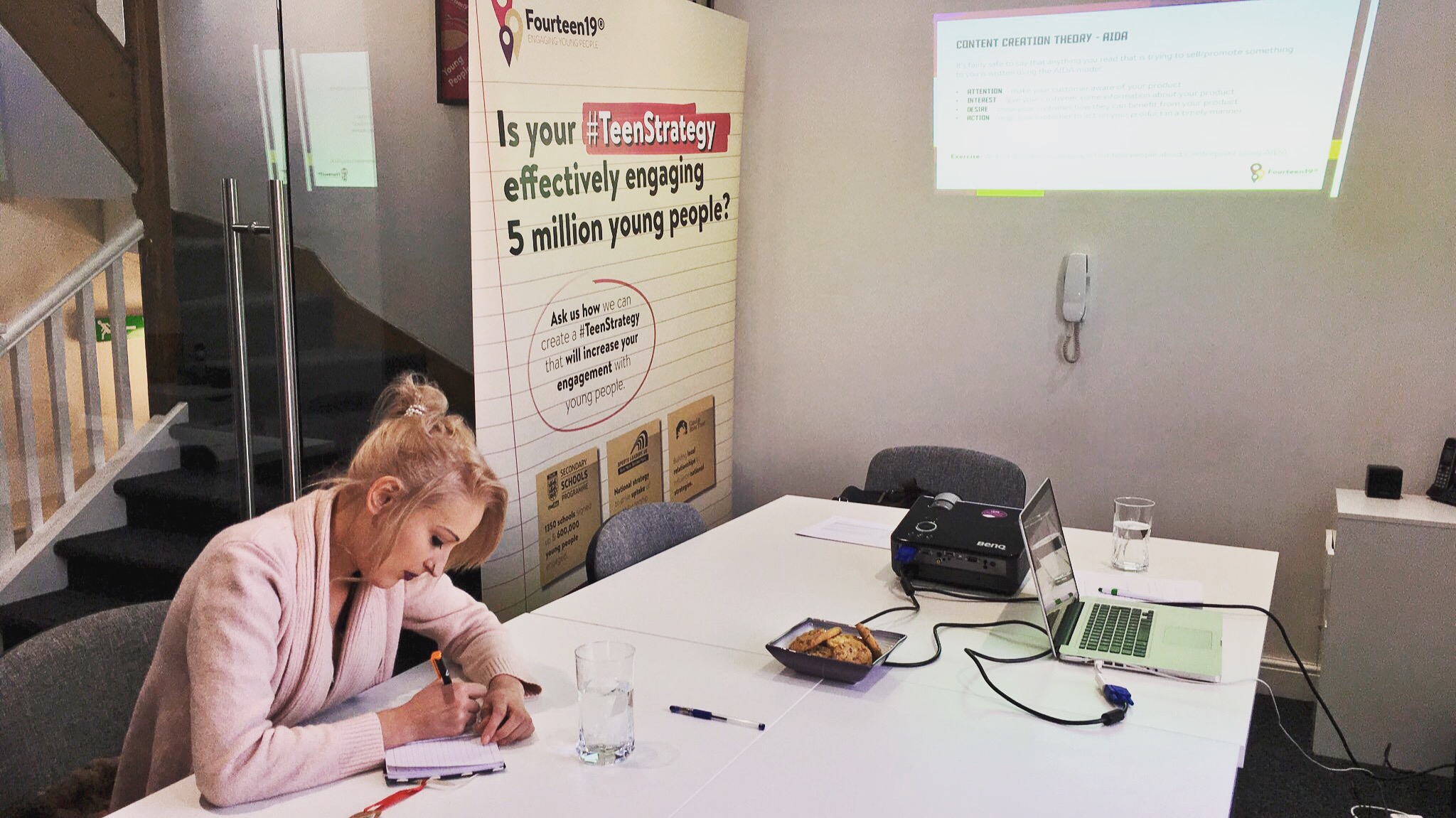 The project involves creating a series of short, animated films to help staff understand the support and resources available to them. But we wanted to go the extra mile and have as big an impact as possible.
So we recruited Catherine.
Catherine is 24 and has been receiving support from Centrepoint for mental health and homelessness issues since the age of 15. Whilst she is now living independently, she is keen to get into work and needs as much experience as possible!
Over the course of 3 sessions, we're going to take Catherine through our Introduction to Digital Marketing Award where she will learn everything she needs to know about marketing and gain real experience on a live project for a national organisation.
To document the process, she's going to be writing a blog! Here's entry #1…
I'm working with Fourteen19® and Centrepoint on a film project to help Centrepoint recruit 20 Mental Health Champions so that they can help more young people deal with mental health issues. For the project I'm going to learn about marketing, edit and amend a script and narrate some films.
By being involved in the project I'm also going to gain the Fourteen19® Introduction to Digital Marketing Award which I hope will help build my portfolio as I'm looking to start a career in this sector.
In the first session I learned loads about marketing, including the Product v Customer model, how to write exciting posts and articles using AIDA and we also did a SWOT analysis on my experience with Centrepoint (keen to point out that I struggled to find any weaknesses – they've been amazing!).
Alex from Fourteen19® took me through a PowerPoint presentation I first was acquainted with the Product v Customer approach. This assisted me developing ideas and bullet points on what Centrepoint is and offers and helped me bring the idea of product and customer together. I then started to look at the 4P's of marketing (product, place, price and promotion) and got larger understanding of that and how it helps me to understand an organisation. We then looked at attention, interest, desire and action in which I wrote a short piece as a practice. It's only rough but I'm quite proud of it:
"1 in 4 of us suffer from mental health issues. At Centrepoint we've introduced a toolkit to help staff spot the symptoms early, and point young people in the right direction. We're looking for Mental Health Champions who can help our staff to support young people with mental health issues. Could you be the amplifier for a young person's voice to help them get the support they need?"
I found it quite difficult at first, especially sticking to the AIDA model but found it useful to structure and guide my writing – I've written articles before, but this helped me understand how to write one that more people will read. After that we did a SWOT analysis that identified the strengths, weaknesses, opportunities and threats of Centrepoint itself as a charity.
This session gave me some extra understanding of the charity I've been involved with since I was 15.
I was then asked to look at the outline scripts, which I went through and changed to suit me to enable me to read it naturally and not so scripted. We changed words here and there so they were in 'my voice' and the voice of other young people – and even changed whole sentences. It was great to feel like it was 'my' script by the end of it – I hope Centrepoint will be happy too!
I feel like I have learnt a lot today and introduced to new terms and processes, which gives me further knowledge of not only marketing, but also the product itself. I'm excited to do the recordings, as it's something I've never done before – nobody likes the sound of their own voice though do they?! I can't wait to see everything come together and hopefully play a part in helping other young people with mental health issues access the support they need.
To find out more about how we can work with young people to make your next project even more impactful, get in touch.